Print book
A Caddie User Guide for completing online training
| | |
| --- | --- |
| Site: | Caddie Online Courses |
| Course: | Caddie Online Courses |
| Book: | A Caddie User Guide for completing online training |
| | |
| --- | --- |
| Printed by: | |
| Date: | Tuesday, 28 November 2023, 11:56 PM |
Description
In this guide, you will be introduced to the basics of using the online Caddie Training hosted by Moodle, a Learning Management Systems (LMS).


Aims
• To prepare you for using an online learning environment.
• To create an educational environment for Caddie users.
Objectives
• To ensure you can navigate within the online learning structure.
• That you know about the additional features to enable you to get the best from the learning environment.
• Provide a forum for Interacting with students and course instructor(s).
1. Introduction
We know that as a Caddie user you have at least a basic knowledge of using a computer! In addition, it is assumed that you are familiar with your web browser and navigating between pages on the internet.
In this guide, you will be introduced to the basics of using this online learning platform as part of your Caddie Training.
How to best use this guide is up to you. It has been written so that you can either work through it in a linear way or jump to any specific sections as you wish.
This document will guide you through:
• how to edit your profile
• page layout including blocks
• basic navigation around the site and your courses
• activities and resources
2. What is Moodle?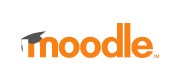 Moodle is a Learning Management Systems (LMS) designed to add, supplement or replace traditional learning methods. For Caddie Training, it will enable access to a range of courses without physically having to travel to a traditional face to face training course. We aim to provide an enhanced and consistent learning experience for Caddie users developing an interactive website designed to engage learners and promote collaborative, user-centred learning.
The learning environment allows you to access your course materials online and make use of several useful facilities to enhance your learning experience.
It can bring the dynamics of a classroom environment to the Internet. It allows teachers and students to interact in a 'virtual classroom'. The difference is that it can be done from any place in the world, at any time and with the resources of the Internet as support.
Courses can be developed as fully interactive classrooms where you may be involved in online group discussions or collaborative group work. Other courses may not involve a lot of online discussion and course material may be presented as a structured set of files such as documents and presentations.
Some of the advantages of using online learning:
Increased access to important course information.

Additional learning support where materials and tools are available.

Undertaking aspects of studying anytime, almost anyplace when it suit you.
No need to travel to a course.
To make the most effective use of this system:

Ensure you know how the site within a specific course

Exploit the opportunities provided (follow links and read documents, participate in discussion forums, complete exercises, etc.)

Make time to complete a course that you have enrolled for.

Prioritise the commitment to your development.

As you progress through a course the site will become a more familiar learning environment. Eventually, becoming another tool used to support your learning.

As with any classroom, it is a changing environment - expect each module to apply different tools and techniques. Join in, ask questions, and participate as you would on any course.
3. Logging In
Moodle is basically a web site like any other and is therefore available wherever there is an internet connection. Figure 1 shows the home page.
(Figure 1)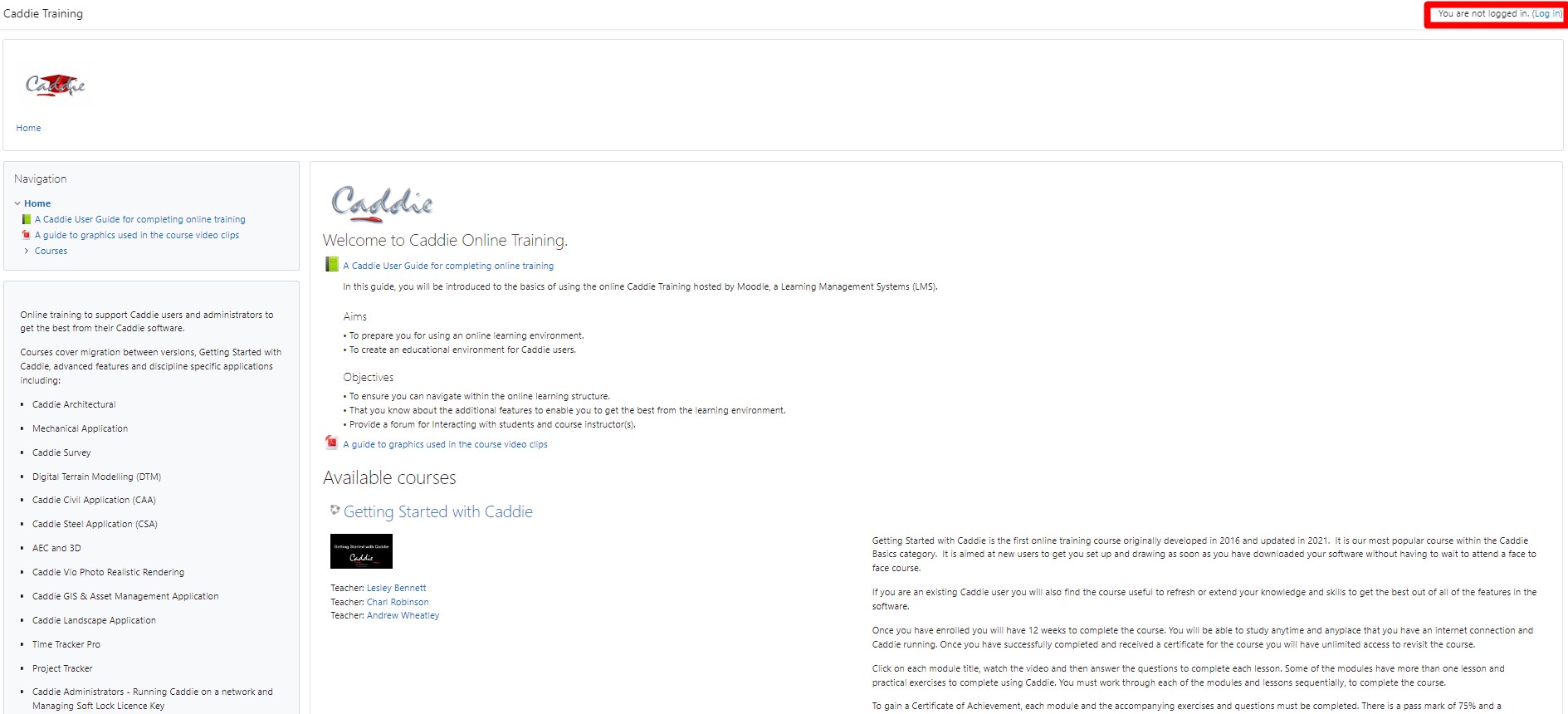 (1) The following web address: https://learning.caddiesoftware.com is the Caddie Online Learning site.
(2) When you type this into a browser you should see the home page in Figure 1.
(3) At the very top of the right-hand side of the screen, you will see some text stating you are not logged in. Click on the 'log in' link that is next to this text.
(4) On the log in screen, if you already have a username and password type them into the appropriate text boxes and then click on the 'log in' button. You can tick the 'Remember username' to make future logging in quicker.
Alternatively, click the 'Create New Account' and follow the instructions (Figure 2).
(Figure 2)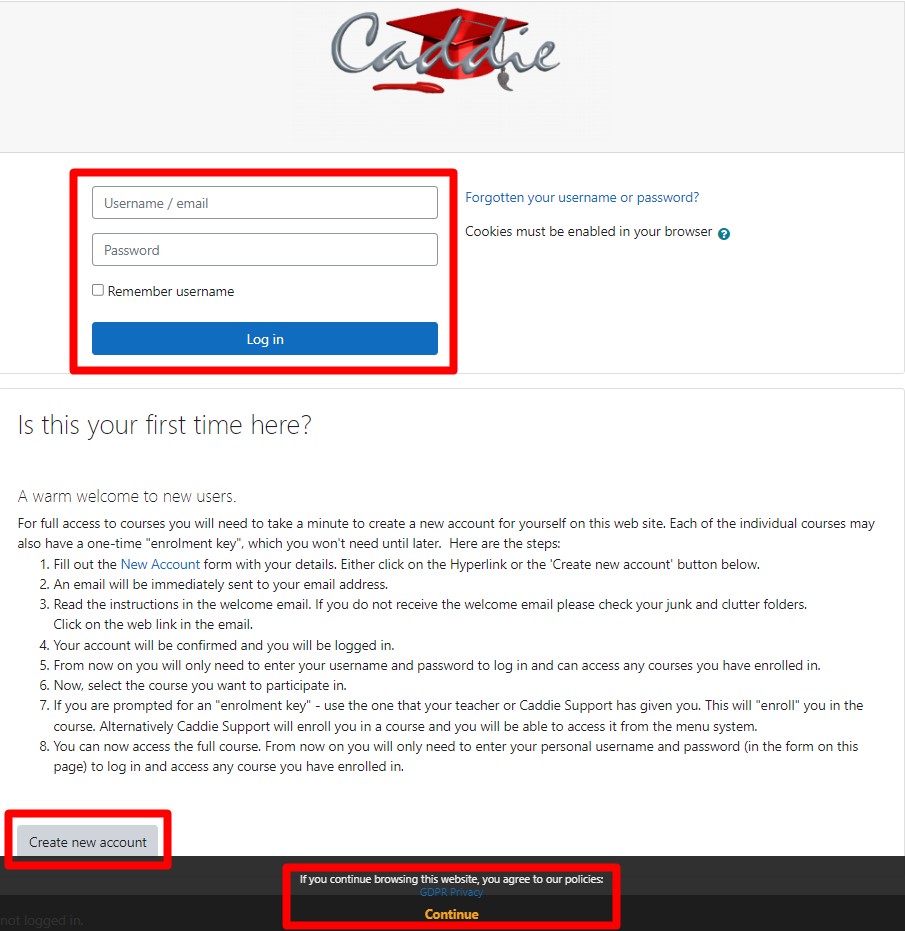 When you click 'Create new account' you will first get our General Data Protection Regulations (GDPR) policy to look through. You will need to give your permission for your personal information to be held in line with the Caddie Privacy Policy. Once you have had a read through and are happy with the content please tick the box to indicate your agreement.

Complete the information and choose your username and password. Your username needs to be lower case letters only.
Almost done

Next you will receive a welcome email, please follow the instructions.
Once you have completed the registration form and clicked the 'Create my new account' a confirmation page will show you the email address the confirmation email will be sent to. Check that the address is correct and then check your email folder. When the email arrives, open it and click the link below the line stating:

'To confirm your new account, please go to this web address:'

A new browser page should open showing a confirmation page, stating that your registration has been confirmed.

If you do not receive an email, check your spam, junk and clutter folders. The email will be sent from 'Caddie Online Learning Support'. Click the 'Continue button and you will be automatically logged into the Caddie Online Learning site. You will now be able to get started on your training.

The home page shows the courses that we offer. Some are free and others you need to purchase.

We are continually developing new courses and adding them to this site. We want to encourage a Caddie Community of our software users who want to learn and inspire each other.
4. What will I find?
When you are logged in your name will appear at the top right of your page.
Clicking on your name will display this dialogue box with the following options.
(Figure 3).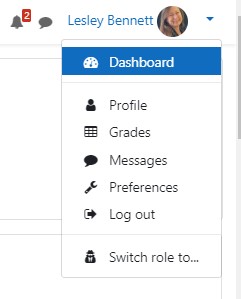 This dialogue is a quick way to view your Profile, Grades, Messages and edit your Preferences as well as Log out of the site.
5. Your Profile
Your Profile
This page shows a 'Full Profile' which can be personalised. Editing your profile will allow you to become familiar with the options available to you and to personalise your learning environment. A shorter version of this profile is available from each course.
To edit your profile from your home page, click on your name and then 'Profile'. From here you will be taken to your profile page.

Select 'Edit Profile' under 'User details'. You will now see a page containing a series of options.
(Figure 4)



Editing Your Profile
Now that you are logged on you can edit your profile. You may alter any of the settings, most should be left as they are to ensure that the learning environment functions for you at its best. It is great to add a photograph of yourself and ensure your email is correct. You can also change your password too.
When you upload an image, it will appear in the user menu by your name and also on your 'Dashboard' page.
The first section contains fields that must be completed, indicated by red stars:

First Name and Surname
These are self-explanatory. These names will identify you everywhere in your courses.
Email address
The email address should be an address that you check regularly. It is used for acknowledgements and announcements from Caddie Online Training, including messages from Forums that you are subscribed to. It is also the address that is displayed to other users, depending on your 'Email display' setting (below).
To exit the profile, use the navigation block on the left. The arrows to the left of the main headings can be used to expand or hide a section.
(Figure 5)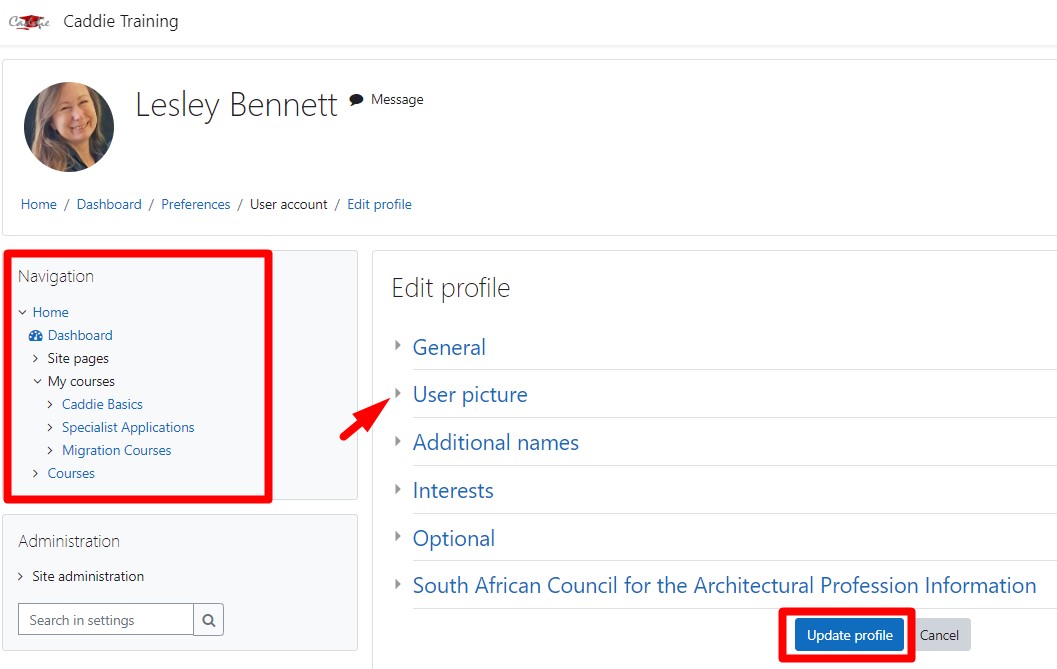 Email display
This controls the visibility of your email address to others. The three settings are self-explanatory but please note 'Hide my email address from everyone' only hides it from other students. Teaching staff and other staff with editing access will always be able to see your email address.
Email format (advanced)

There are two formats: "Pretty HTML format" (messages will be formatted) and "Plain text format" (plain text with no formatting).
Email digest type (advanced)
This setting determines how you receive any posts from Forums to which you are subscribed, allowing you to receive messages individually or daily.
Forum auto-subscribe (advanced)
This setting lets you decide if you want email copies of posts that are added to forums. If you set this to subscribe, the system will automatically email you copies of new posts in forums that you post in, unless you manually override it when posting.
Forum tracking (advanced)
Enabling forum tracking means highlighting the posts you have not read yet, which should improve your forum navigation.
City/town & Country
Add your location.
Timezone
This field is used to convert time-related messages on the system (such as assignment deadlines) from the local timezone (the time in London) to the correct time in whichever zone you have selected.
Preferred language and theme (advanced)
You can view Moodle in several different languages and colour themes, which you can select via these two options. Note: changing the preferred language only affects the Moodle interface, not the course content!
Description
In this field you can enter some text about yourself, be it information about your studies, hobbies, qualifications or anything else.
User picture
This section is optional and allows you to choose your own profile picture. Your current picture is shown, if you have already chosen one.
New picture
The "Choose a file" button allows you to choose a picture for your profile. The picture must be in JPG or PNG format (ie the names will usually end in .jpg or .png).
To upload an image, click the "Upload a file" button from the list in the File picker, and select the image from your hard disk.
NOTE: Make sure that the file is not larger than the maximum size listed, or it will not be uploaded.
Then click "Update Profile" at the bottom - the image file will be cropped to a square and resized down to 100x100 pixels.
When you are taken back to your profile page, the image might not appear to have changed. If this is so, just use the "Reload" button in your browser.
Interests
Use tags here to display your interests on your profile page.
Optional
There are several optional fields (all advanced) allowing you to add further details to your profile such as contact details and your website.
Custom Profile Categories
If any custom user profile categories and fields have been created on your the site, they will be listed at the bottom of the Admin >Accounts>User profile fields.
Remember to click 'Update profile' when you have finished.
6. Available Courses
On the 'Home' page you can see it has blocks on both sides and the main content down the middle.
Figure 6 shows some of the features.
You will find courses displayed on the front page. You can click the course title to enrol yourself onto the free courses.
(Figure 6)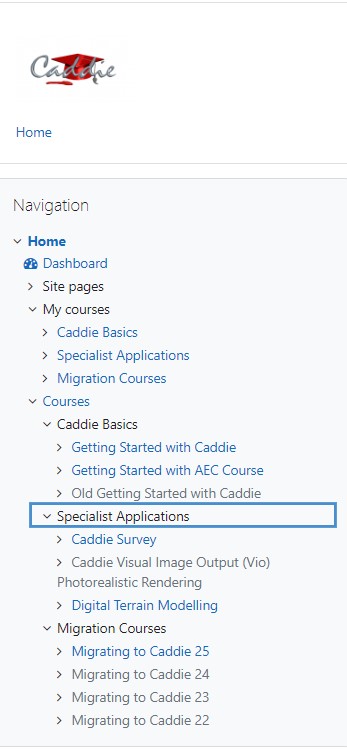 In the centre is the main documentation for the Caddie Online Training site that is common to all courses.
The 'Available courses' are also displayed with their overviews. This list can be scrolled to view all courses. If you see a title that is greyed out it means that it is currently being developed and is nearly ready to be launched.
On the right is a block displaying all courses that will be developed to support the Caddie range of products.
7. Course Enrolment
In the 'Navigation' block on the top left you will see 'My Courses'. Once you have enrolled in at least one course, you will see it here under 'My Courses' . Below this you will see 'Courses'. If this option is expanded, it will show all the available courses on our site for ease of navigation.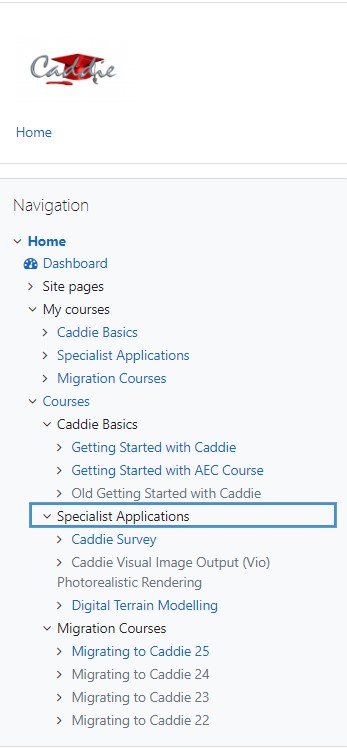 Below the 'Navigation ' block is the 'Completion Progress' block. The bars show what has been completed and what still needs to be done for all courses you are enrolled for. Once you click into a course it will only be displayed for that course.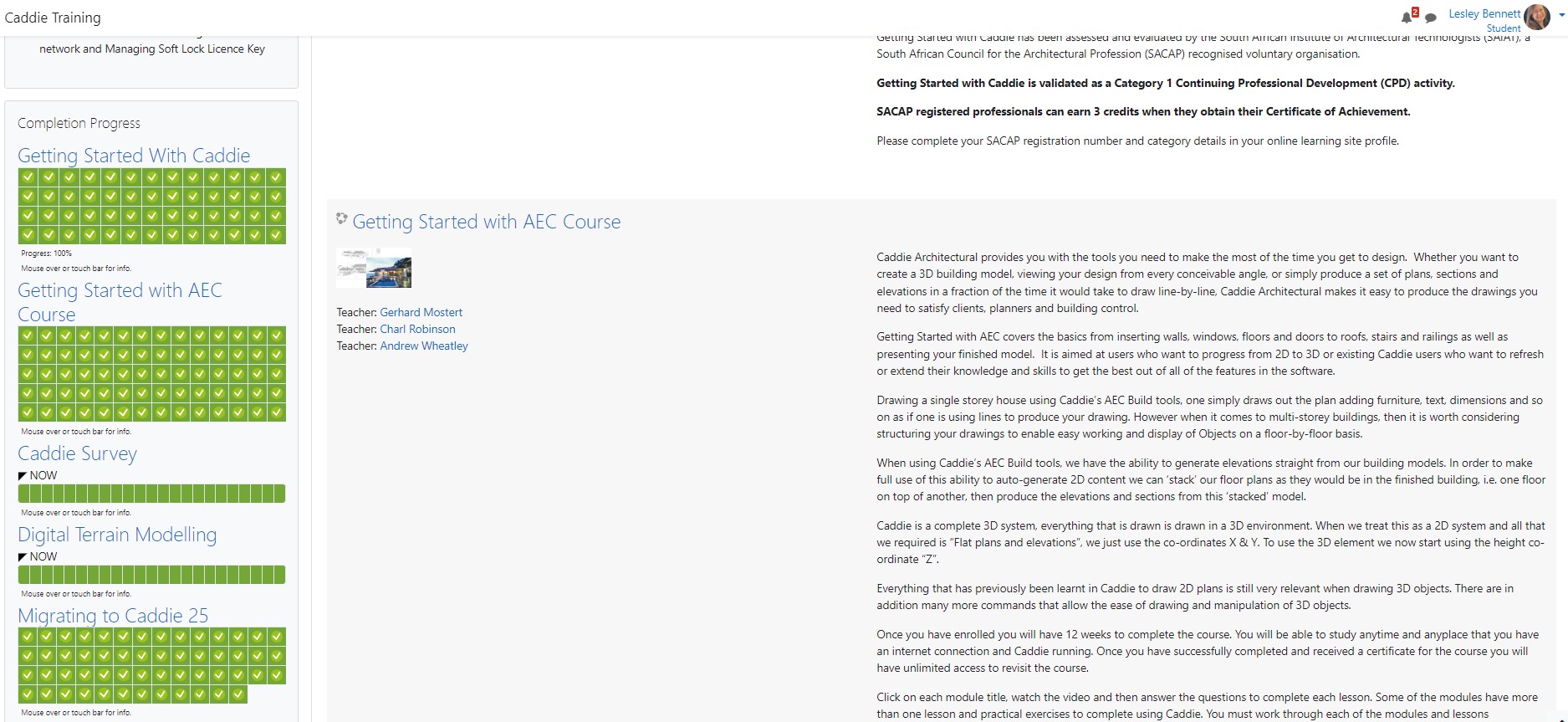 The central navigation block displays all the available courses together with the overview. You can scroll through the middle of the block and will see an overview which provides more details on the course, the enrolment instructions and what to expect. Clicking on the title, which are links, will take you into the course. If you have not yet enrolled in a course, you will need to do this next.
Some courses you will be able to 'Self Enrol' and others you will need will need to be enrolled by Caddie Support after payment has been confirmed. If you want to purchase a course you can do this on the Caddie website. Once you have completed your purchase you will be enrolled onto the course.

The box with an arrow indicates self-enrolment and no enrolment key is needed.

The box with a key symbol indicates that this course will need to be purchased.
Migration Courses enable Caddie users to see all the new and exciting functionality in the latest software. Our Caddie YouTube Channel has all the videos and tips for the latest version of Caddie software.

8. Course Navigation
Once you are in your course we recommend that you use the navigation tools that are built into the Caddie Online Learning site. These are the Module Links (breadcrumbs) and the Navigation Menu rather than your browser's navigation buttons (the forwards and backwards arrows).
The breadcrumbs are a trail showing the pages you have passed through to get to your current location. They are shown in the top left corner of the page and clicking on them will take you to that point in the course.
The Navigation Menu is a simple way of quickly getting to another place in the course or the Caddie Online Learning site. Click on the appropriate link to quickly go to your Home Page, view your profile etc.
There are two ways to navigate your course. The first is through the main course content in the middle of the main block. Clicking on these links will take you directly to the modules, lessons, exercises and resources.
(Figure 8)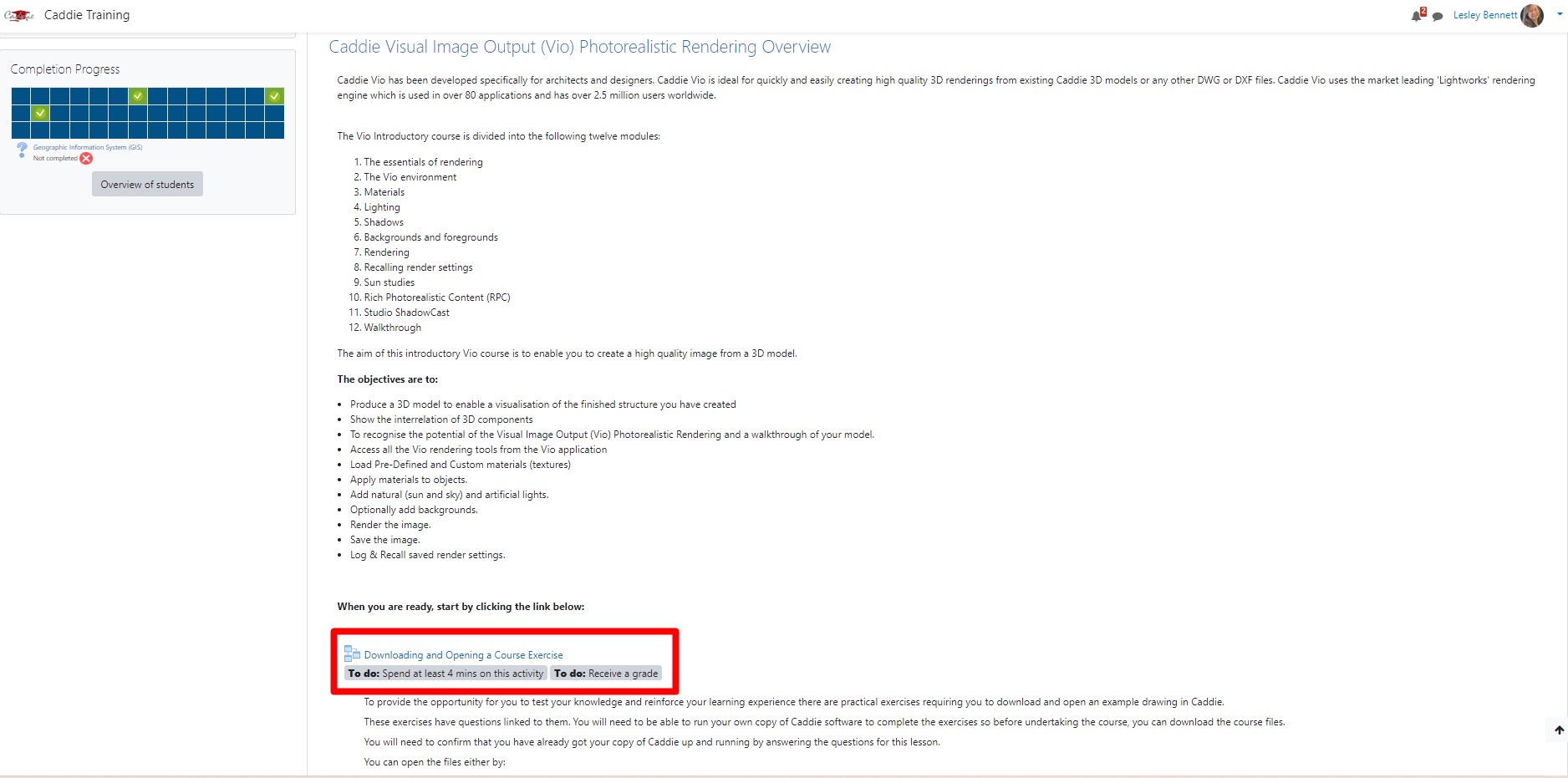 The second is to use the module links (breadcrumbs) from the course menu on the left side of the page. These can also be expanded to show the content of each module.
(Figure 8B)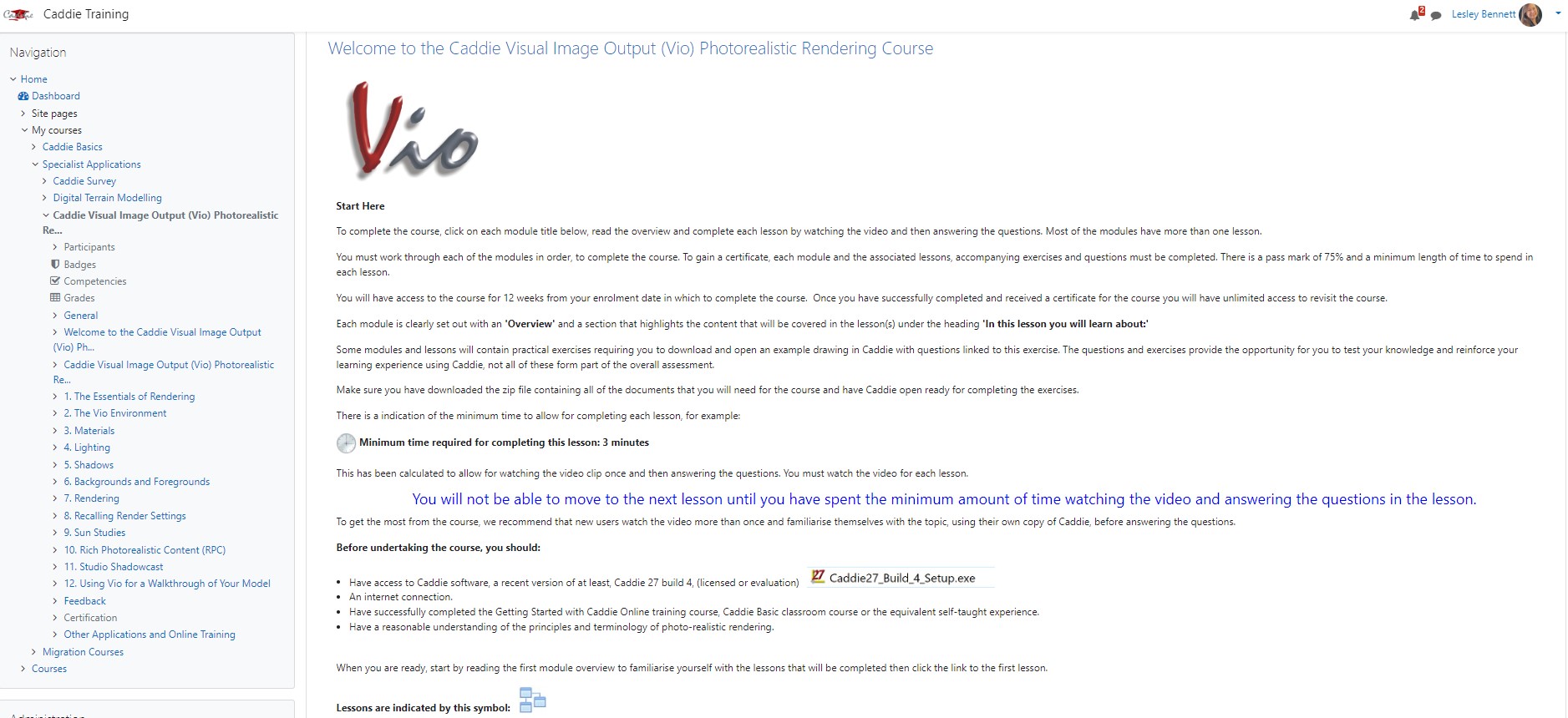 Once you have opened an exercise, lesson or resource, further instructions may be given where appropriate. For example:
Open your copy of Caddie to follow the instructions in the questions to find out the answers.

Download the file, exercise … and open it in Caddie.

The 'Completion Progress' block is a useful way to see how you are progressing:
Green ticks show that you have successfully completed a course lesson or activity.

The red cross indicates that although it has been completed the required pass mark of 75% or more has not been reached. To be able to get a Certificate of Achievement this lesson or activity will need to be retaken. It may just be the questions that need to be answered or you may not have spent enough time in the lesson. You can watch the video again before answering the questions as it is a good way to clarify anything that has been misunderstood. There is usually a limit to the amount of times you can watch the video and retake the questions. Contact Caddie Support if you find that you are blocked from moving onto another module.

Any lessons or activities that have not been attempted will be shown blank and blue.

You can click on the segment of the progress bar to navigate to the lesson or activity that you need to complete. If there are restriction within a course, to control the flow of the course, you will still need to complete the modules sequentially and will not be able to skip any. You can go back to previous lessons that have already been completed.
On some courses access to the modules have been restricted so that you work through the course in a sequential order. This is to ensure that you have understood the basics first before progressing and building on what you have learnt earlier.
The Caddie courses are divided into modules and often have more than one lesson for you to work through, together with additional resources and exercises.

(Figure 9)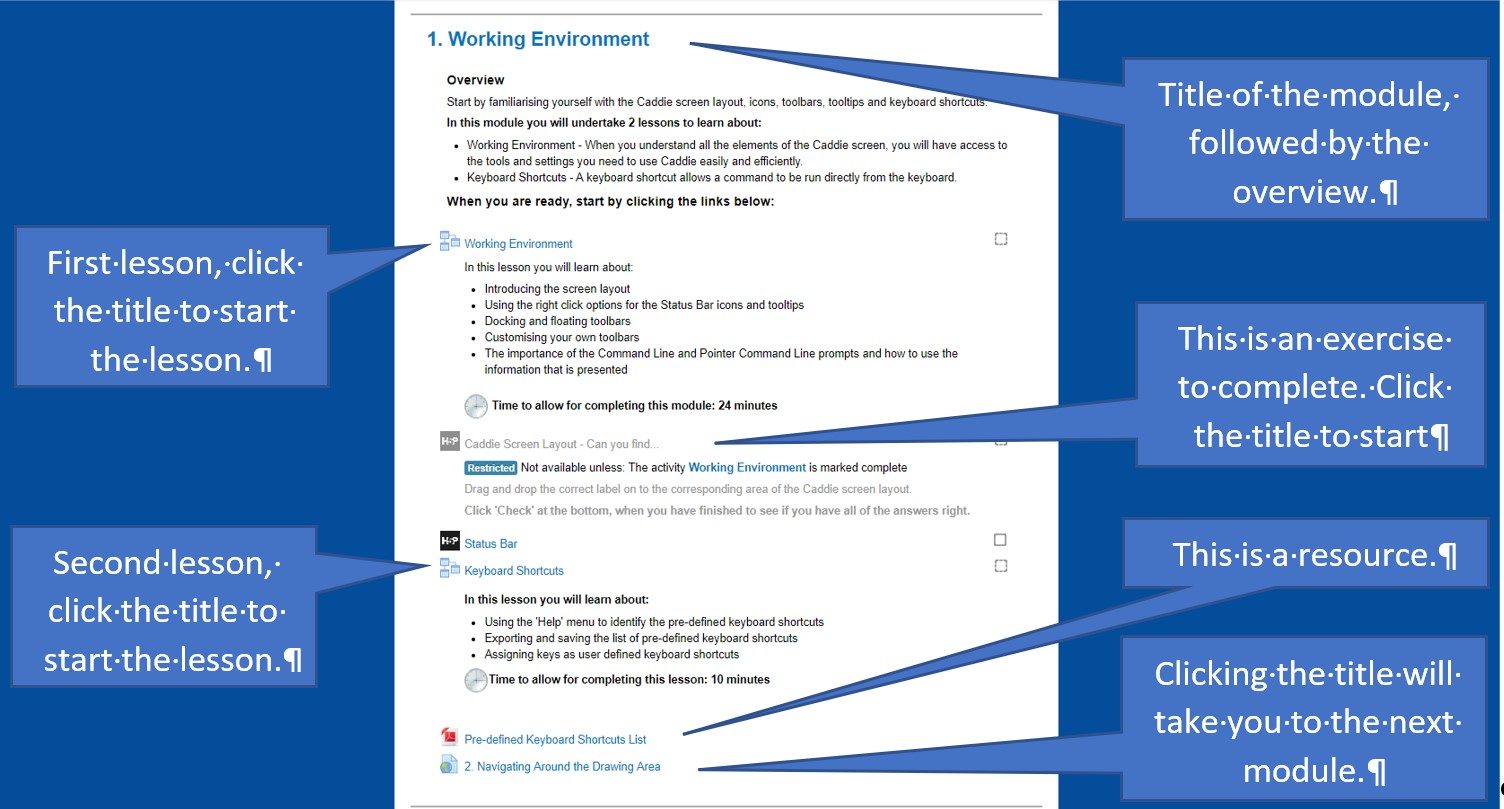 Modules are numbered with the main title. An overview for the module is displayed followed by the lesson(s), exercise(s) and resource(s). Lessons are indicated by the three files symbol (see figure 8 above). To start the lesson, click on the lesson title and follow the instructions.

You will be instructed to watch a video clip and then answer some questions. When you have finished watching the video clip click the box at the bottom of the screen to access the questions. When you have finished you will be able to navigate to the next exercise, lesson or module. There is a link at the bottom right of the screen.

(Figure 10)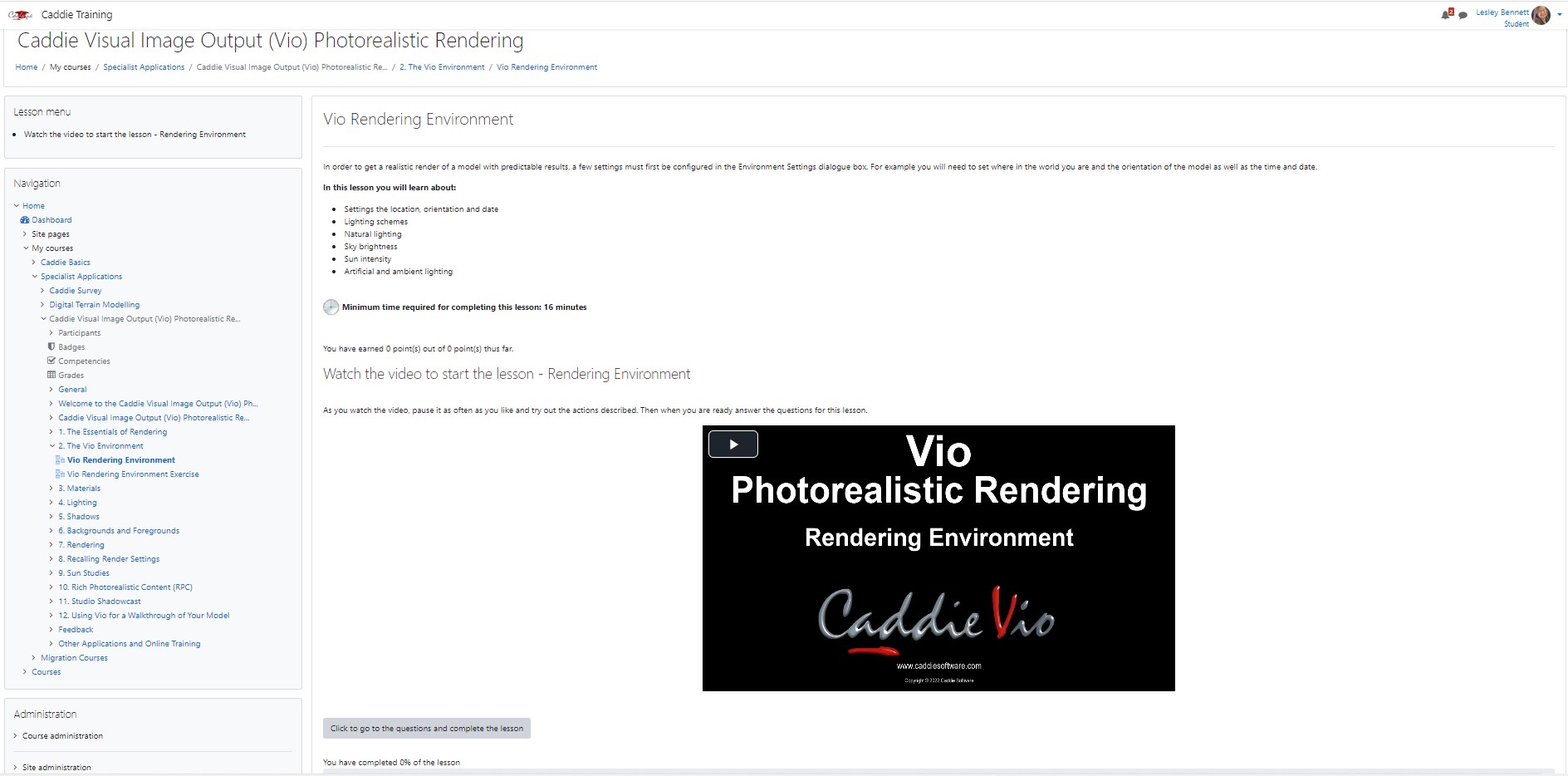 There is a 'Minimum time required for completing' indicated for each lesson or exercise. For some courses this is controlled, and you must stay in the lesson for this length of time. This is to ensure that you do watch the video and complete all the sections required. This is necessary for a certificate to be issued and for the course to gain accreditation for Continuing Professional Development (CPD).
Remember, course videos do demonstrate more than is tested by answering the questions and completing the exercises, so they are essential to watch to get the most from the course.
9. Completing a Course
On the main course page under each lesson or exercise is a message that indicates the amount of time that has to be spent in the activity and the status, if it still needs to be completed or is 'Done'.
Figure 11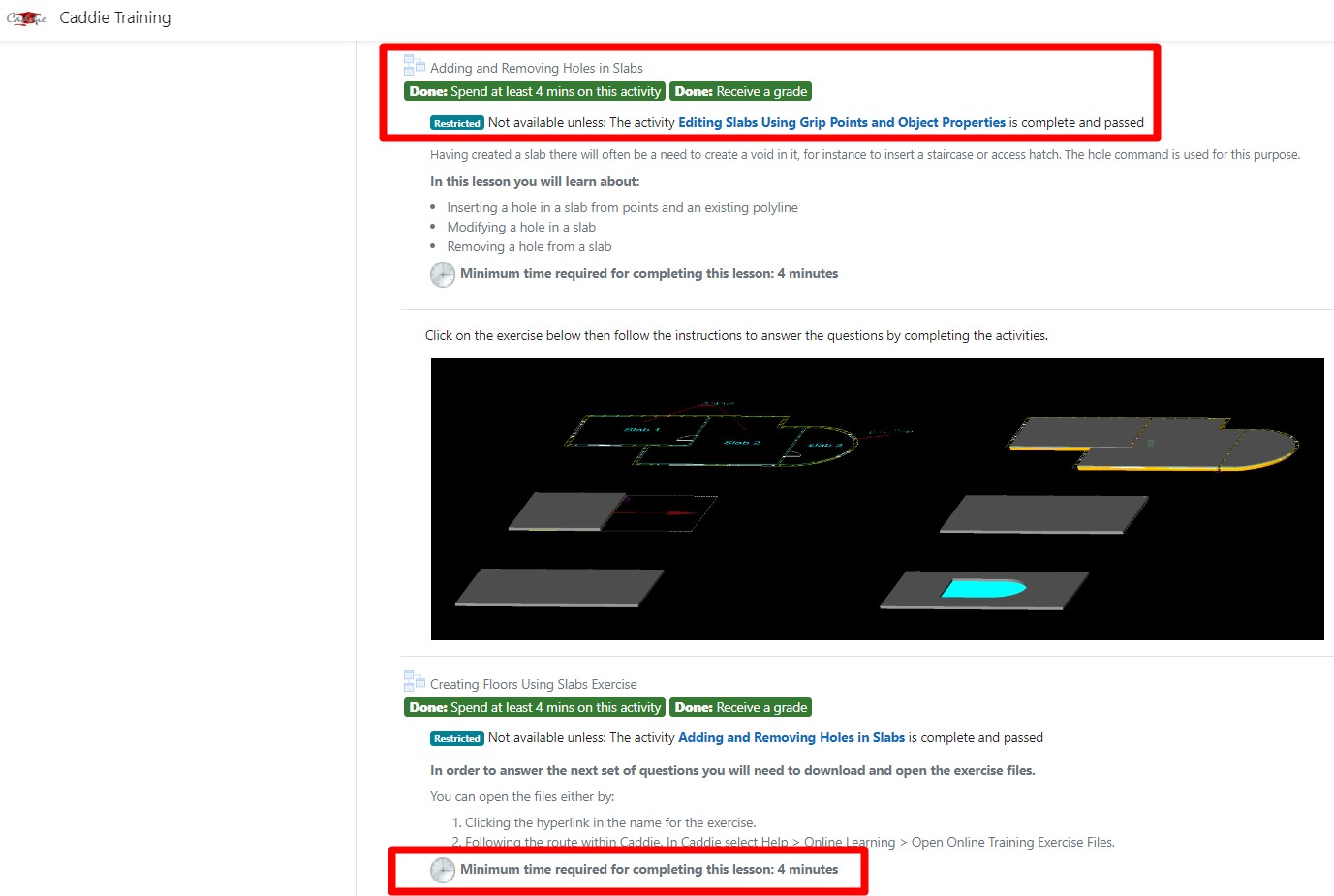 A green tick will appear automatically when you have successfully completed the lesson. When all lessons are completed successfully all boxes will have green ticks. If a box is not ticked and you have completed the lesson you have not achieved the required score or spent enough time in the lesson. You can repeat the lesson to obtain the required pass mark. If there is a red cross in the box you have not achieved the require pass mark of 75% for this lesson or activity.
Figure 12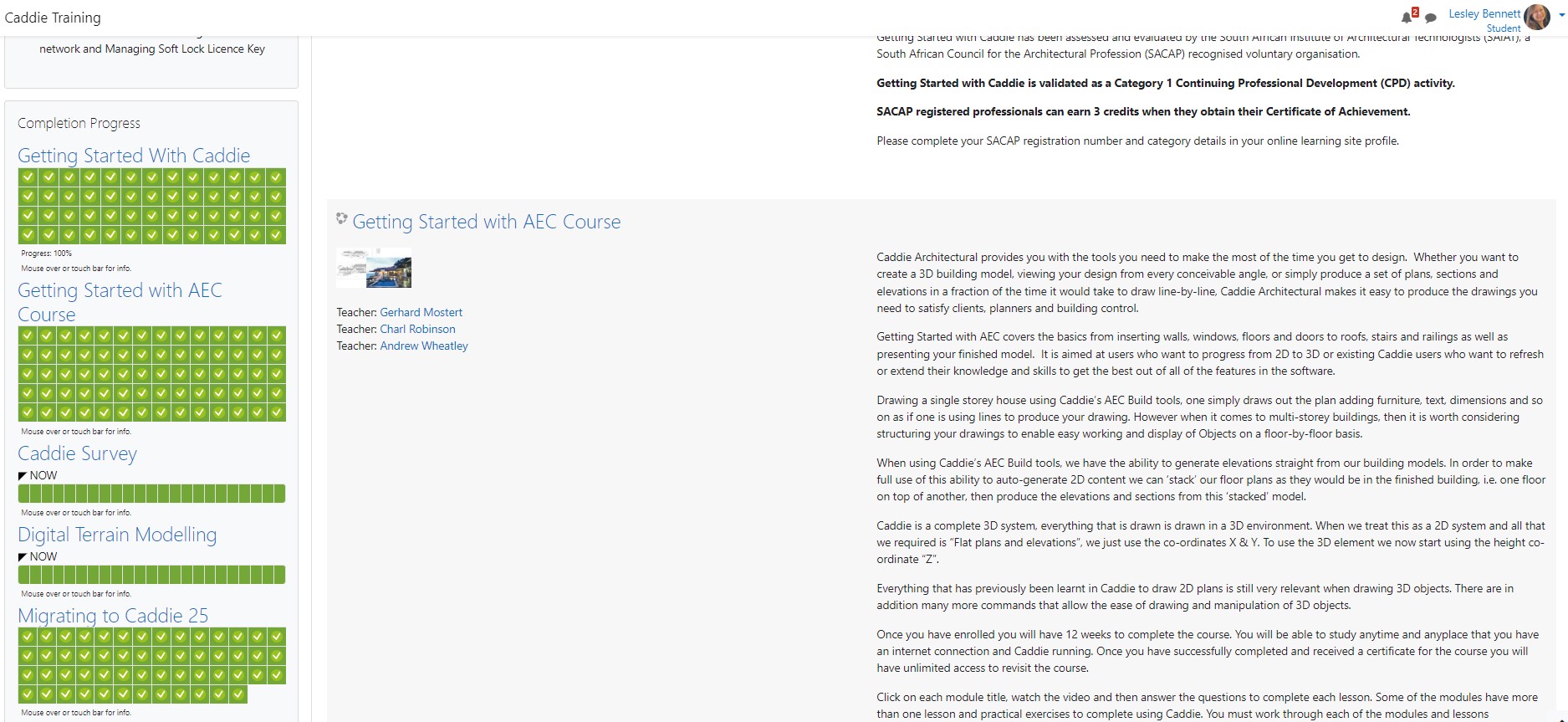 To complete a lesson, you must answer all of the questions. Most questions are multiple choice. Select the answer you think is right and then click 'Submit'. The next screen will display the question, your chosen answer and will tell you if you were 'Correct' or 'Wrong'. Click to go to the next question. You will not be able to retry the question at this point. Your progress is recorded as a percentage through the questions.
Figure 13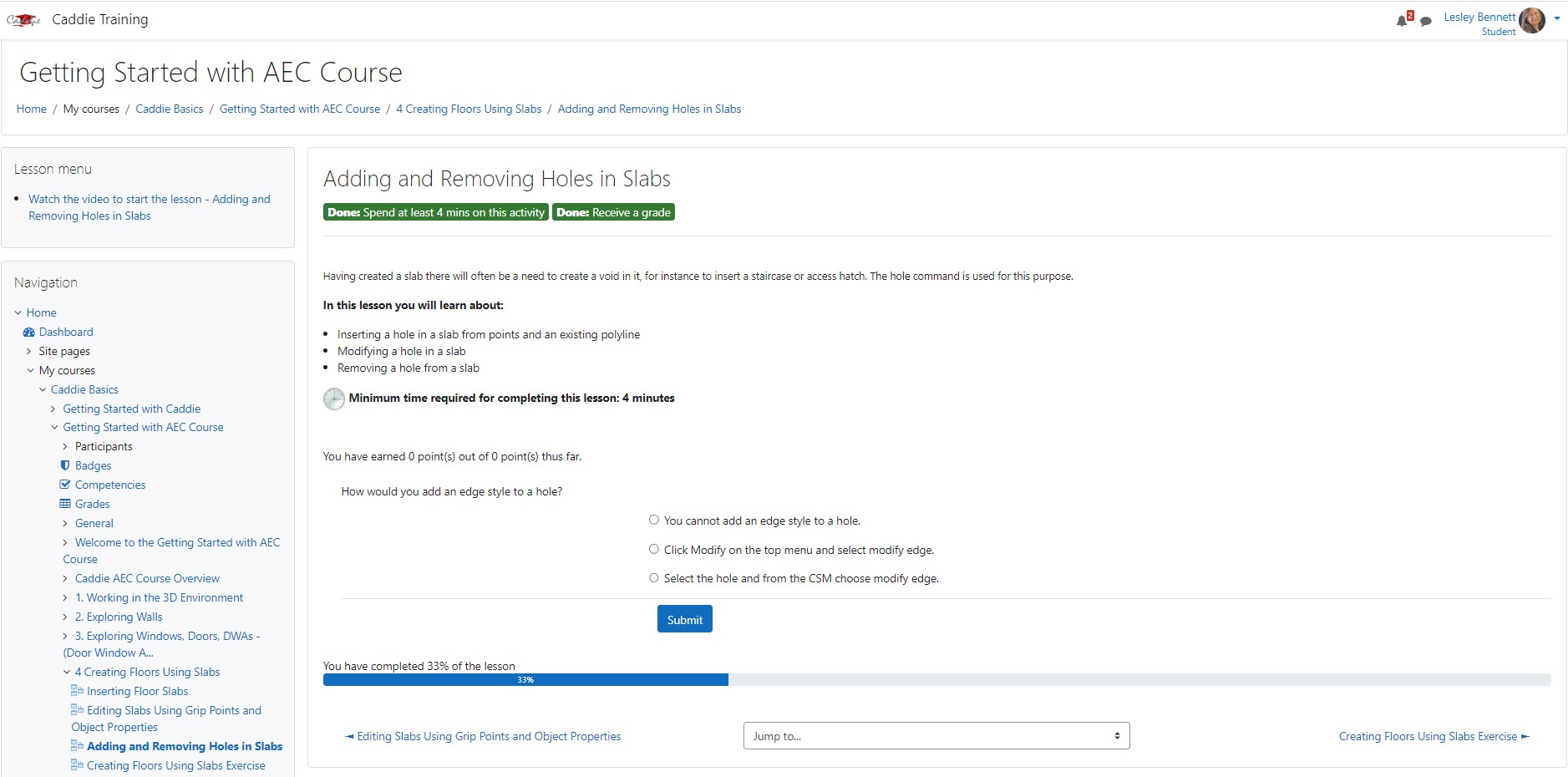 At the end of each module there is a 'Summary of Lessons'. You must click the 'Finish Lesson' at the bottom to complete the lesson and receive a final score. If you do not do this and navigate away, you will need to answer the questions again.
Figure 14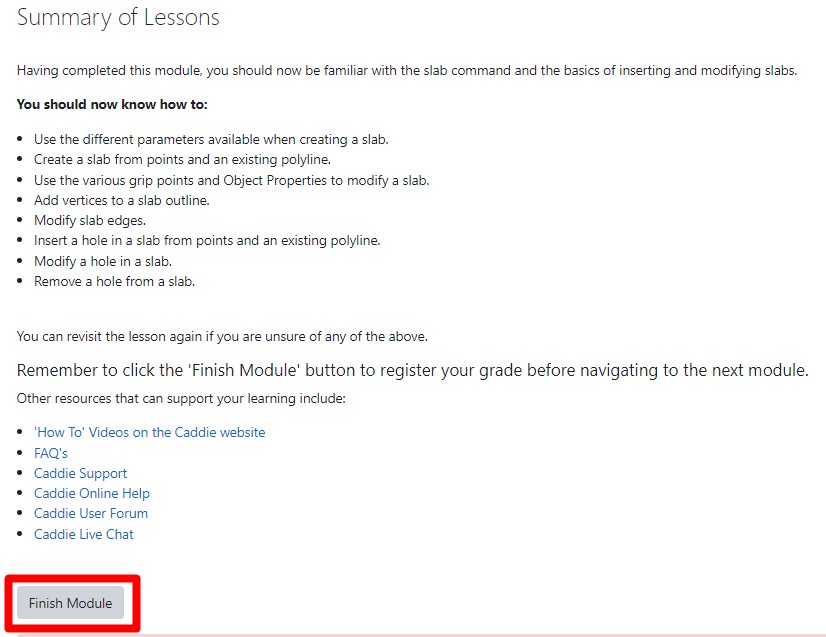 10. Certificate of Achievement
Once all lessons and the feedback form have been successfully completed, you can click the certification link from the bottom of the course navigation block to obtain your completion certificate. Note that the certification option is not visible until all lessons have been completed.
All certificates that you have gained can be accessed from your profile page.
Figure 15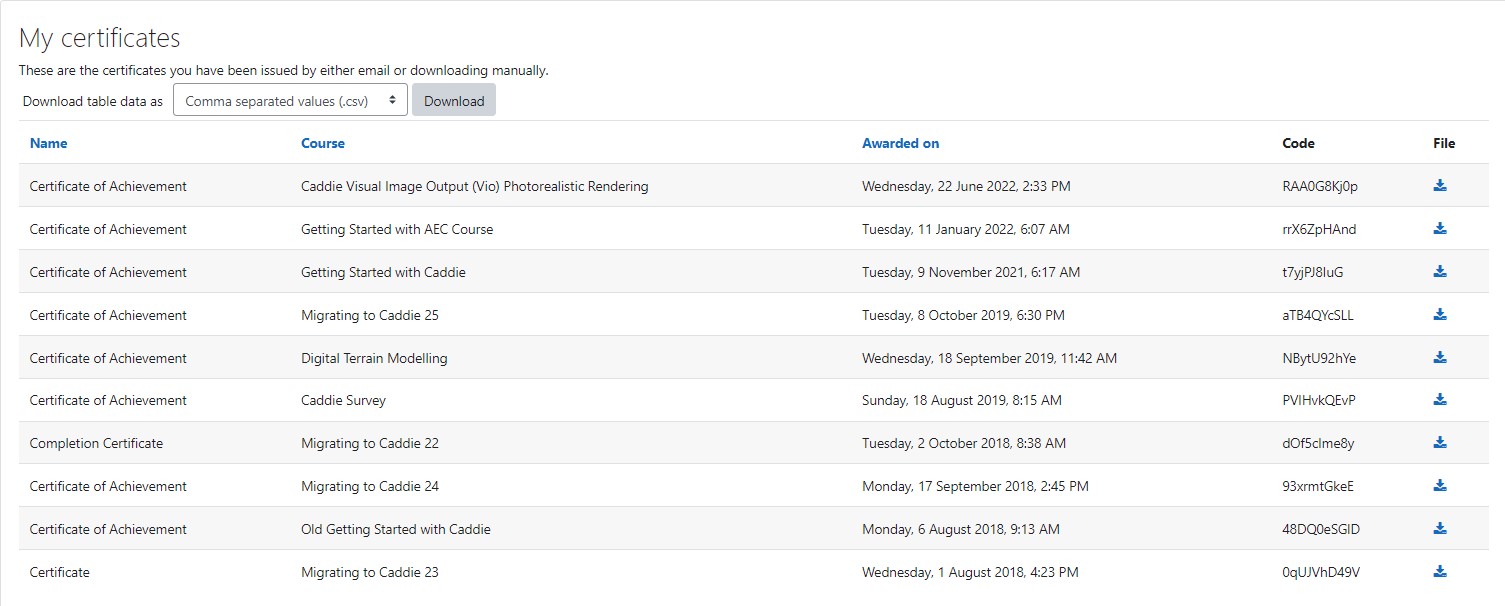 11. Dashboard
This is your personal page which you can customise and view an overview of your enrolled courses and any outstanding tasks/activities due in the central block. There is a 'Timeline' and 'Courses' view.
The 'Timeline' view has two tabs:
Sort by date

Sort by courses

The 'Courses' view has three tabs dividing your courses into:
Figure 16

Every user has their own dashboard which they can customise. You can access your dashboard quickly, from the 'Navigation' block or if you are logged in, the 'My courses' link will also take you to the Dashboard.
Default blocks are:
Navigation - Appears on every page of the site. It contains an expanding tree menu which includes the Dashboard, Site Pages, My courses and Courses.
Site Pages – It contains an expanding tree menu which includes Site blogs, Site badges, Notes, Tags and Calendar.

Site blog
Site badges
Notes
Tags
Calendar and upcoming events - The Calendar is one of the more interactive blocks. It allows you to see events created by your course tutors and peers, but it also allows you to add your own entries. This means it can be used as a personal organiser that has the benefit of being accessible anywhere you can get online.
An additional block on the right shows also show the calendar and:
Online users - This block shows a list of users who have been logged into the current course.
Latest Badges -
Private Files -
12. Blogs and Forums
Anyone who can read your internal blog can also take part in a discussion forum with you, only on this site. They can look at your 'User Info' page and see what you've been talking about. External people cannot, and external bloggers cannot interact using pingbacks, trackbacks etc.
There is a facility to run an online forum which we are keen to do, to develop a Caddie Community. This will allow you to reflect and share your thoughts about what you are learning.
These may not be enabled for all courses.
Forums might feature:
Course Q&A—a chance to ask questions about the course.

Exploration and research —a place to discuss Caddie and give each other help and hints.

Analysis—an opportunity to share reflections, thoughts, arguments, evidence, or ideas.

Group work—a work space for discussing a project and sharing files within small groups.

How it works
Messages will remain posted in the forum for participants to read and respond to within a time frame.
When you enter a forum, you will be given the option to add a new discussion or click on an existing discussion to read postings.
When you have finished drafting your response, click on 'Submit' to make it available to others.
During the 15 minutes after you post a response, you may edit or delete your post by clicking on the appropriate link. Note that if someone has replied to your post, you will not be able to delete it from the forum.
New posts will be flagged to you. Click on the subject line to read a post. To reply, type (or paste) your reply in the text box, then click on 'Submit'.
When you are 'subscribed' to a forum, you'll receive an email copy of every post made by all forum participants. Click on 'Manage forum subscriptions' to subscribe or unsubscribe to multiple forums.
Everyone is always subscribed to the Announcements forum. Your instructor uses this forum to share important information about the course, so you will receive an email each time an announcement is posted. Note: This is not a true forum—it's a one-way tool for teachers to make announcements. You cannot reply to an announcements forum posting.
Tips for posting
Forums may be used as homework — Post early to maximise your contribution to the discussion.

Always review your posts for spelling and grammar.

Be careful with your tone and language—the online environment lacks the visual cues that help us interpret intentions when we discuss face-to-face.

Policies relating to appropriate use and language are also enforced in the Caddie Online Learning site

Consider drafting a longer response in a Word document, then copying and pasting it into your discussion text box using Ctrl+C and Ctrl+V to avoid losing your communication.

13. Checking your grades
The Caddie Online Learning site uses a 'Gradebook' feature for some courses. Some courses have "weight" to the grades, while others add up all of the scores and compute your grade based on the percentage of the total possible points you earn.
Two things to keep in mind:
Not all grades may be reflected in the grade book. Not all activities or exercises are graded.
Your total points possible may not match someone else's. The total points possible in your gradebook will reflect only the items graded so far for activities you have completed.
To check your grades, click on the link labelled 'Grades'from the user menu in the top right corner of the page.
Figure 17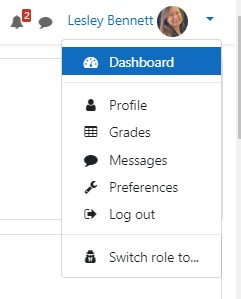 Selecting the 'Grades' link from there. This will display the next screen, click on the name of your course to see your grades.
Figure 18


This will give you a full report.
Figure 19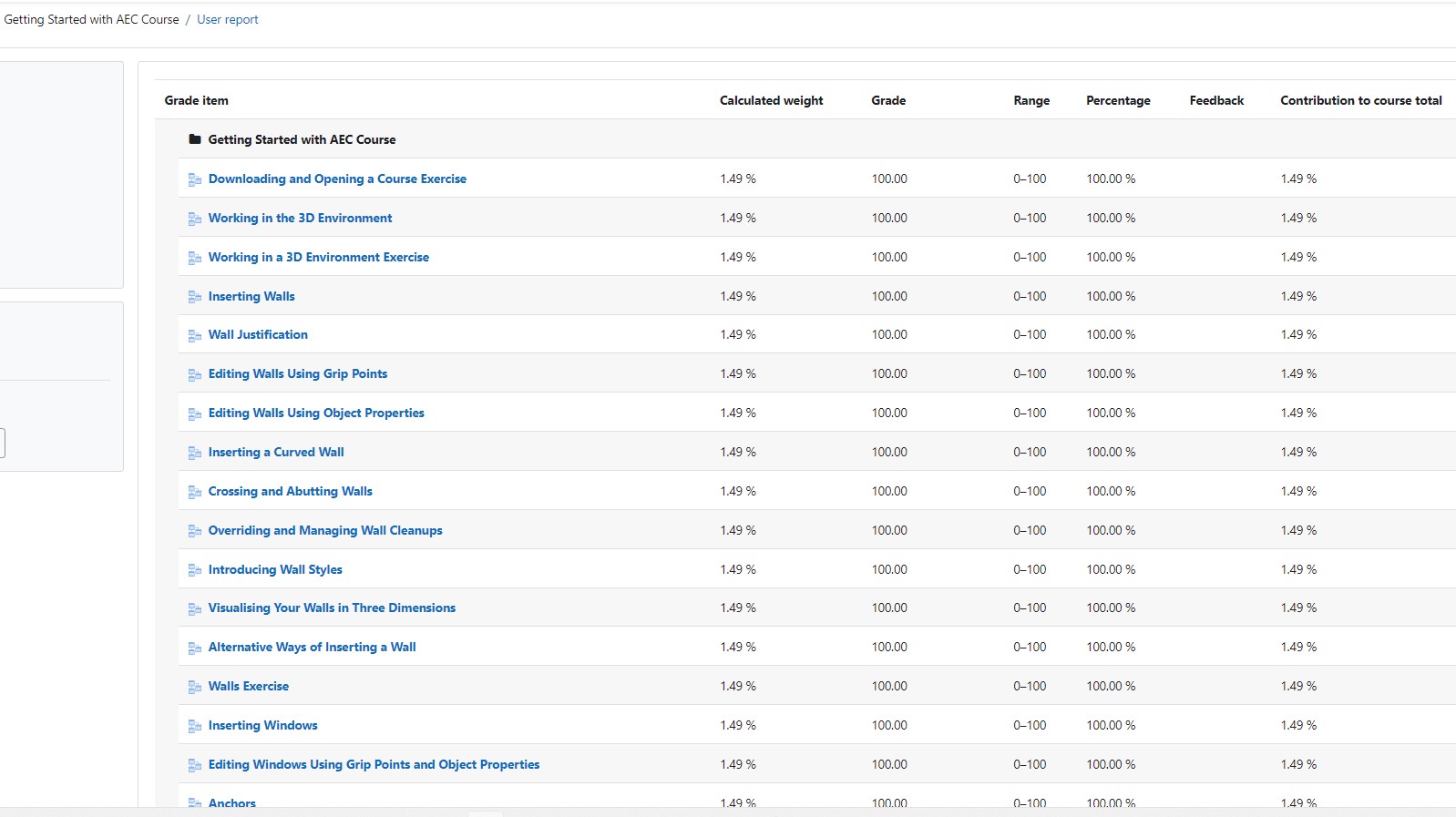 14. Your Notifications and Messages
You can get an alert when you have new messages from your teacher and other participants. You can receive alerts about new forum posts etc. You can receive these alerts via email or pop up, and you can control how you receive them.
To customise your settings, click on the user menu next to your name in the upper right corner of your screen and choose 'Preferences'. From the list of options displayed, click on 'Notification preferences'.
Figure 20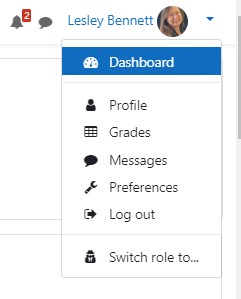 Email messages and pop-up notices will be sent to you according to the options that are checked in the notification configuration page. You can choose notifications to be made when you are online—logged in—or offline—not logged in. To change these settings, click the boxes in the configuration table. The default settings will suit most students.
A number will appear next to the picture of the bell or speech bubble to let you know there are message to view.
Your course teacher or the site administrator may contact you via email using the email address that you have supplied. The system is set to send you a reminder for courses that are time limited.
15. Preferences
Preferences provides quick access to various settings you can edit on your account. To access your preferences page. When you are 'Logged in' to Caddie Online Learning site, click your name on the top right of the browser window.
The preferences page displays links to allow users to edit their profile, preferred language, forum preferences, editor preferences, security keys, messaging, and blogs.

Figure 21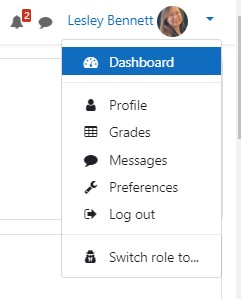 16. Log out
You should always remember to logout and close the Internet browser window when you have finished working with your online course - especially if you share a computer.
• Navigate to the main course page.
• Click on the word 'Logout'.
Figure 22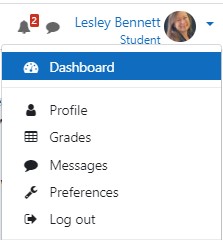 When you have successfully logged out you will see the word 'Log in' displayed in the top right-hand corner of the screen.
17. Do you have any questions?
If you have any questions, please contact the Caddie Support or send a message to your course tutor.